This is a rattle can job I did a couple weeks ago. Cleaned it and snapped some pics. No wax, no PP, just right off the camera. Hope you like.
Don't mind all the dents, bondo work FTL HAHAH
(These are all clickable for high-res. I can't figure out how to make the clickable thumb any bigger in photoshop settings, so please work with me.)
Now I'm gonna see what happens when I hit it with this ...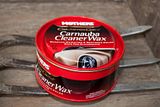 Thanks for looking hope you like! I can link you to my write-up on the rattle can process if anyone wants!
---Ryan