Tri-State Post Whore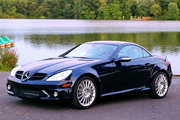 Join Date: Apr 2005
Location: Langhorne, PA
Member #305
My Ride:
2007 Infiniti G35x, 2008 MB SLK55 AMG
How Vascar Works
---
Someone sticky this, it's been asked way too many times...
http://www.radartest.com/article.asp?articleID=5500
Quote:
Blast from the Past: VASCAR Returns
Text and Photography by Craig Peterson
6/20/2005

Not to worry you, as if you haven't already lost enough sleep fretting over the proliferation of radar, but there's some retro-hardware that's of continuing concern for motorists. Like an aging matinee idol rescued from obscurity, a speed-measuring device from the Sixties has been freshened up and continues to be distributed with quiet efficiency among traffic police nationwide. VASCAR Plus, first used in the mid Sixties and rarely mentioned in the press since its heyday in the Seventies, has made a quiet comeback over the past 15 years. Police like it because it makes no use of electromagnetic radio waves and radar detectors offer no defense against it. Your first warning of a VASCAR trap will likely be a trooper pulling up behind you with his red lights on.

VASCAR (Visual Average Speed Computer and Recorder) is a time/distance computer that times a vehicle between two reference points, measures the distance then computes the average speed. Although normally mounted in police cruisers, we've also seen it installed on motorcycles and it's frequently used in aircraft. In that application, the distance between reference marks painted on the road below is entered by the aircraft operator or observer. Then he simply flips the Time toggle switch on and off, using the internal quartz-crystal timer to clock cars between the two marks. With time versus distance recorded, the target's average speed is displayed. Then the pilot radios chase cars below (called catch cars in the business) to make the stop and hand out the speeding ticket.

Since few aircraft are used for speed enforcement (they're expensive to buy and operating costs are high), VASCAR Plus and its competitor, the Kustom Signals Tracker are most often found in traffic-enforcement cars. Each has an input from the VSS (Vehicle Speed Sensor, the gadget that also drives the speedometer) for distance input and a combined computer/control module to handle math computations and memory functions. A manual distance input can be used if the officer is using reference marks painted on the road by the highway department, measured precisely and certified as accurate.

The VASCAR Plus control module has two switches, one for time input, the other for distance, along with a small three-digit speed display window and thumbwheels for manual distance inputs. The Tracker, a much newer design, has three windows and a mini-toggle switch for manual distance input.

Here's how it works.
Assume you're driving down a stretch of divided Interstate roadway. Coming at you is a state trooper with VASCAR. As he spots you he'll look for a reference point where he can begin timing you. Many states paint broad white stripes across the road for this purpose but if the trooper is in open country he's unlikely to have these available. So he will improvise and make use of other landmarks: tar strips, road signs, and shadows across the road all serve nicely. At night he will use the flash of your headlights against reflective road signs, median barriers, reflective mileage markers or even discarded soft drink cans at roadside. As the front of your car passes his mark the trooper flips on his time switch, activating the internal timer. As you continue to approach him he will choose another reference point, wait until you hit the mark then turn off the timer. Now your elapsed time between the two reference points is stored in the computer.


The next step is simple.
He passes you, U-turns through the median and drives to the first reference point. Here he turns on the distance switch, travels to the second point and turns it off, recording the distance you traveled. The computer handles the number crunching and displays your average speed to 0.1 mph. The hardware's accuracy tolerance is plus or minus 1 percent. Since at freeway speeds the minimum recommended clock is one tenth of a mile, the operator can miss his marks by a fair distance and still get a clock within a 2-3 percent accuracy window.

Since the operator has to take an active role in using the device, VASCAR has never been popular with lazy officers. But in the hands of an aggressive trooper, especially when used from an unmarked car, VASCAR can be deadly. In 1971, not long after VASCAR entered widespread service, I had the misfortune to cross paths with Trooper Thomas J. Ludford of the Minnesota Highway Patrol, probably the last guy in the world you'd want to meet if you were speeding. Driving an unmarked gold Plymouth sedan with whitewall tires, full wheel covers, disguised police radio antenna and civilian license plates, we met on I-35 near Owatonna. Although I was closely monitoring the oncoming traffic, I missed him. Ludford spotted me, though. He clocked me at 106 mph on VASCAR approaching, turned, clocked me again at 95 as I slowed for traffic and was filling up my mirrors less than a mile later as be braked from what must have been a 140 mph sprint to catch up, an achievement considerably abetted by his uncommonly healthy 440 cubic inch police interceptor engine.

Ludford was surprised when my first question was "What did you use for reference points?", this before he mentioned his use of VASCAR. But with no peep from the radar detector, it didn't take a rocket scientist to know what hardware he was using. Ludford used the two most popular types of clocks here: meeting and following.

Knowing how meeting clocks are accomplished, study up on the others:

Following
Using reference marks as described in the above meeting clock, the trooper drives behind the target and activates the time/distance switches. If he is in a marked cruiser he will usually hang well back and mingle with other traffic to avoid detection. If you suspect a VASCAR clock the proper response is to quickly slow far below the limit to lower your average speed. Once late at night on I-70 in Ohio I studied in the mirrors a car that seemed to be keeping pace, even at an indicated 90 mph, although he never approached closer than half a mile, making it tough to gauge his relative speed in the darkness.

Knowing that Ohio had VASCAR at the time, I waited until I crested a hill then moved into the right lane, braking heavily to 45 mph, continuing at that speed for about a third of a mile, then accelerating again to 55 as the lights popped over the hill and rapidly approached. It was a white highway patrol Plymouth. After falling into step for a while he gave up and passed me.

Front Clock
Watching you in his mirrors, the trooper will choose marks and clock you as you approach. By the time you notice you're closing in on a trooper it's all over.

Roadside clock
The trooper paces off a stretch of road, storing that distance in the computer. Then he parks in a shady, concealed spot and times cars between his marks. A favored location is around freeway on ramps. He'll clock you as you come out from under the overpass to the point where the on ramp merges with the highway, a nice tenth-mile clock. Look for him parked at the top of the on ramp.

Thirty-eight states use VASCAR, about half of them from aircraft as well, according to Tom White, national sales manager for Traffic Safety Systems, marketers of the device. The Maryland State Police recently installed it on six motorcycles and have been so encouraged they are planning a dozen more. The biggest users: North Carolina, Florida, Maryland, Indiana and Wisconsin.

With traffic police increasingly frustrated by detector-equipped speeders, it's a safe bet VASCAR will increasingly become a part of the speed enforcement scene, like it or not.
Also, I believe the unit they use in the city of Philadelphia is called Tracker, which as mentioned in the article is the newer version of the same thing.
http://www.kustomsignals.com/product...ame=fixedmount
__________________
Just enjoying the ride.
To view links or images in signatures your post count must be 10 or greater. You currently have 0 signatures.

2004 Chrysler Crossfire - Gone
2007 Infiniti G35x Sedan -
To view links or images in signatures your post count must be 10 or greater. You currently have 0 signatures.

2008 Mercedes-Benz SLK55 AMG -
To view links or images in signatures your post count must be 10 or greater. You currently have 0 signatures.

---
Last edited by WhiteXFire; 02-22-2006 at

04:42 PM

.